The Perfect Easter Brunch Addition
Carrot scones are the perfect addition to your Springtime afternoon tea or Easter brunch! These are delicious and effortless to make. Wake up the household to the appetizing smell of scones this Easter weekend (or any weekend) and they will LOVE this scrumptious breakfast. The Easter season is very exciting but can be very overwhelming for many. The family events and (for some) the church events make for a very busy few days. Trust me, these scones will be the easiest part of your weekend.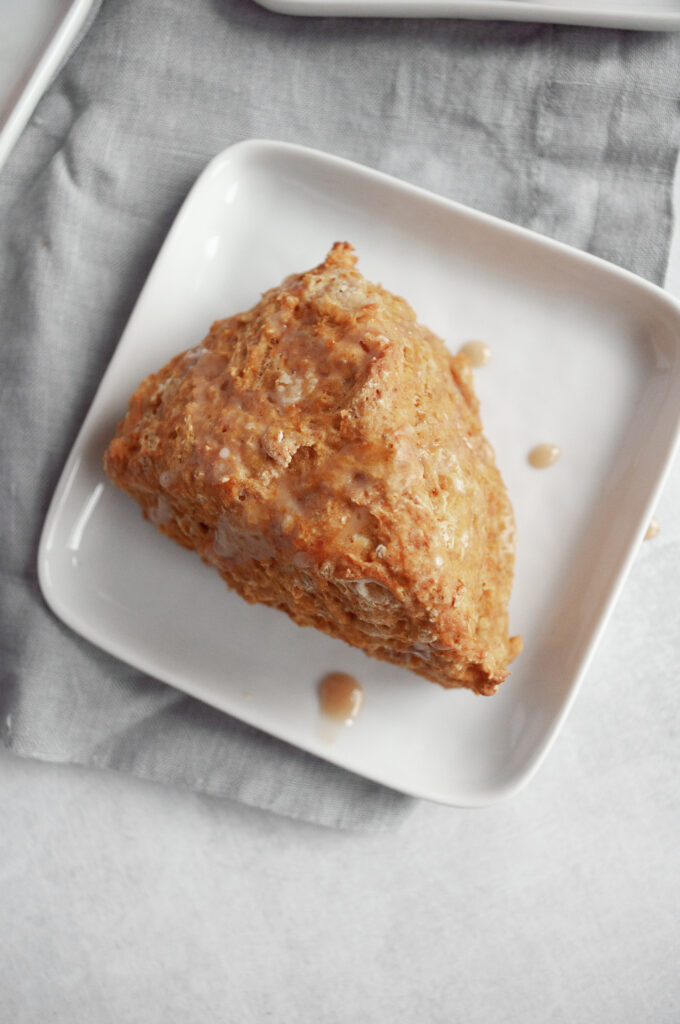 The base of this scone recipe is very similar to my Whole Wheat Apple Cinnamon Scones, but this recipe uses all-purpose flour only. Though you can always sub one cup of whole wheat flour for these ones as well if you want to health them up a bit.
Why Make These Scones
I love baking with carrots. When they are baked they become so sweet, while still retaining their earthiness. It helps to keep the flavour profile of these scones nice and balanced. As any carrot cake fan knows, carrots and cinnamon are a match made in heaven. You can always use more or less cinnamon based on your preference.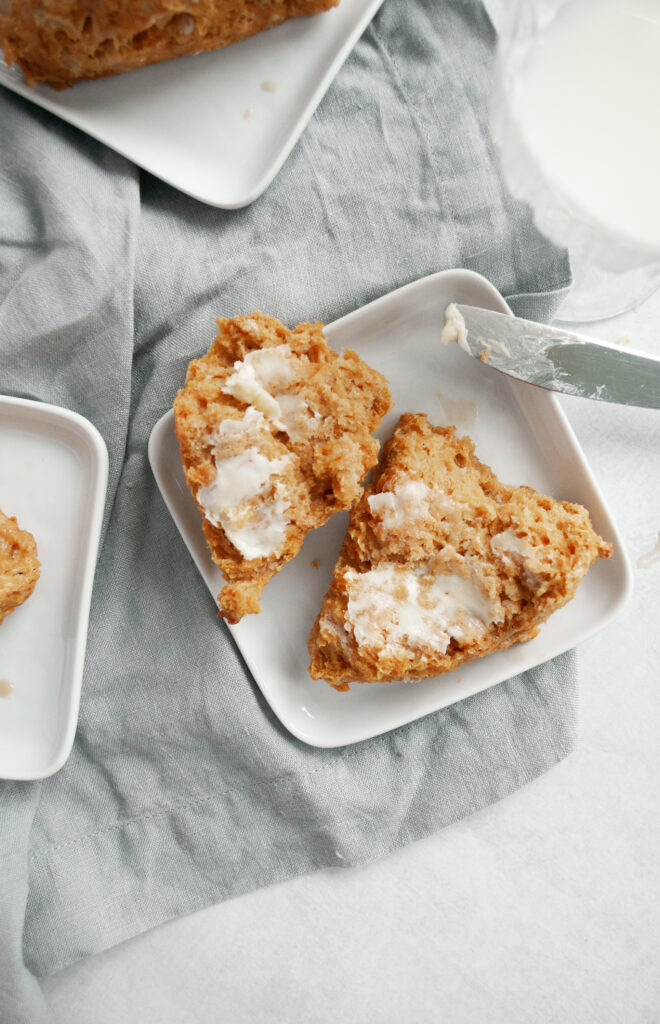 There is an optional maple glaze on these scones. I think it really elevates them into the dessert category. If you like this recipe try some of our other scone recipes or our scone bars, otherwise known as "scookies". For all of these recipes, you use fridge temperature butter so you don't need to wait for your butter to warm up. Literally, the best thing ever when you are in a rush 🙂 Or if you want more carrot-centred recipes, try our Fantastic Fruit and Veggie Bread.
How Easy Are They Really?
Combine the dry ingredients and then cut in the cold butter using a fork or pastry blender. The pieces should be about the size of peas. Then you combine the wet ingredients and the grated carrot. Next, you very gently combine the wet and dry. Make sure that you do not mix them too much or they will lose their crumbly texture.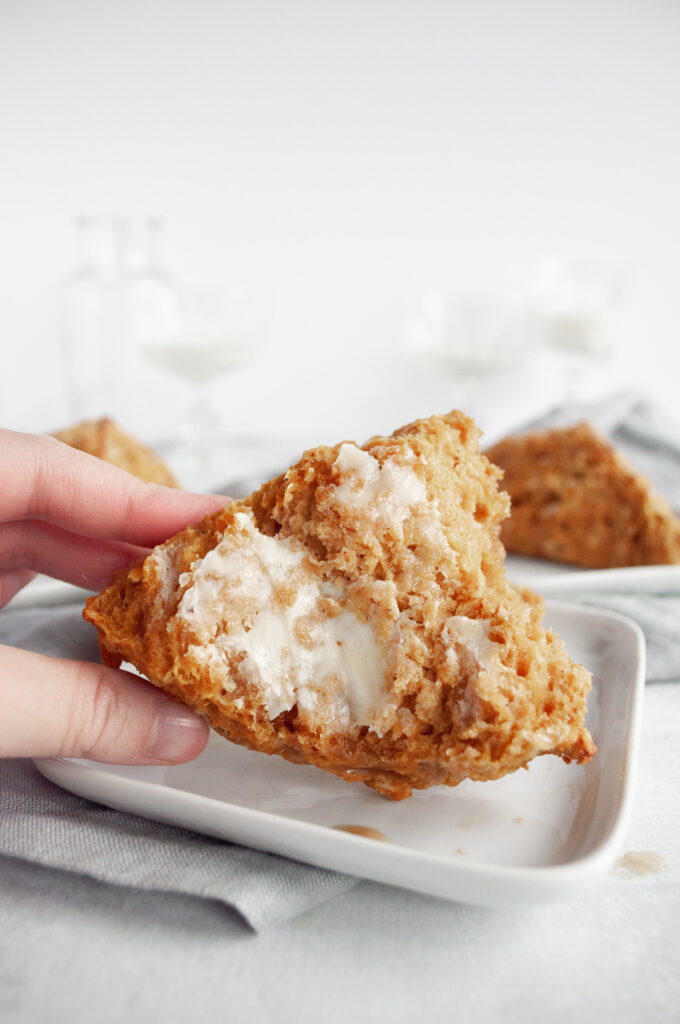 You will want to toss them together using a fork until they are just combined. Then form a ball with the dough. Try not to touch it too much because the heat from your hands melts the butter. Pat it into a thick round disk and then slice it into six wedges. Place on a baking tray that has been covered with parchment paper or a silicone mat. Bake for 20 minutes and voila, yummy warm scones. When they have cooled a bit, you can add the glaze and enjoy ?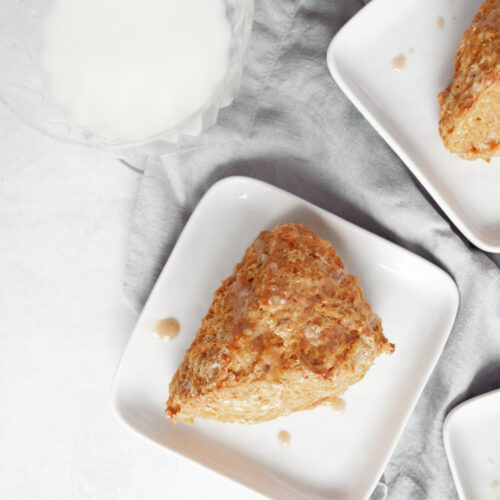 Carrot Scones
These springtime favourites will be a hit at your next high tea or Easter brunch. Quick, easy and oh so yummy!
Ingredients
¼

cup

brown sugar

1

tbsp

baking powder

2

cups

all purpose flour

¼

tsp

salt

3

tsp

cinnamon

¼

cup

butter (cold)

1

egg

(beaten)

⅓

cup

milk

1

cup

grated carrot
Optional Maple Glaze
3

tbsp

maple syrup

3

tbsp

powdered sugar
Instructions
Preheat the oven to 425 F.

Combine sugar, baking powder, both types of flour, salt, and cinnamon. 

Cut butter into large squares. Add cold butter to the dry ingredients and use a pastry blender or fork to break them apart into smaller pieces.

In a separate bowl, beat the egg and then combine it with the milk and add the grated carrot.

Add the wet ingredients to the dry ingredients and toss them together with a fork.

Softly knead the dough a very small amount in order to make it into a ball. Pat down the top to make it flatter on top (into a thick disk). Make sure not to touch it too much. We do not want the butter to melt with the warmth from our hands.

Use a knife or pastry cutter to cut the dough into 6 equal pieces.

Bake for 15 – 20 minutes (until golden brown on top).
Optional Maple Glaze
Combine the maple syrup and the powdered sugar with a small whisk. Drizzle onto cooled scones.