When Stefan and I went on our mini-honeymoon to Oak Bay Beach Hotel, we made sure to visit White Heather Tea Room. I had been following White Heather Tea Room on Instagram for quite some time and the fare looked enticing. On a rainy summer afternoon, we experienced a delicious selection of savouries, scones and sweets.
My usual partner-in-tea, my mother (Lily), was not present but I feel confident speaking for both of us when I say, this afternoon tea is well worth your time and money. Also, I recognize this review is coming out a lot later than I expected but let's just say, it's been quite the year, so this is the earliest I could post. Let's get into the details, shall we?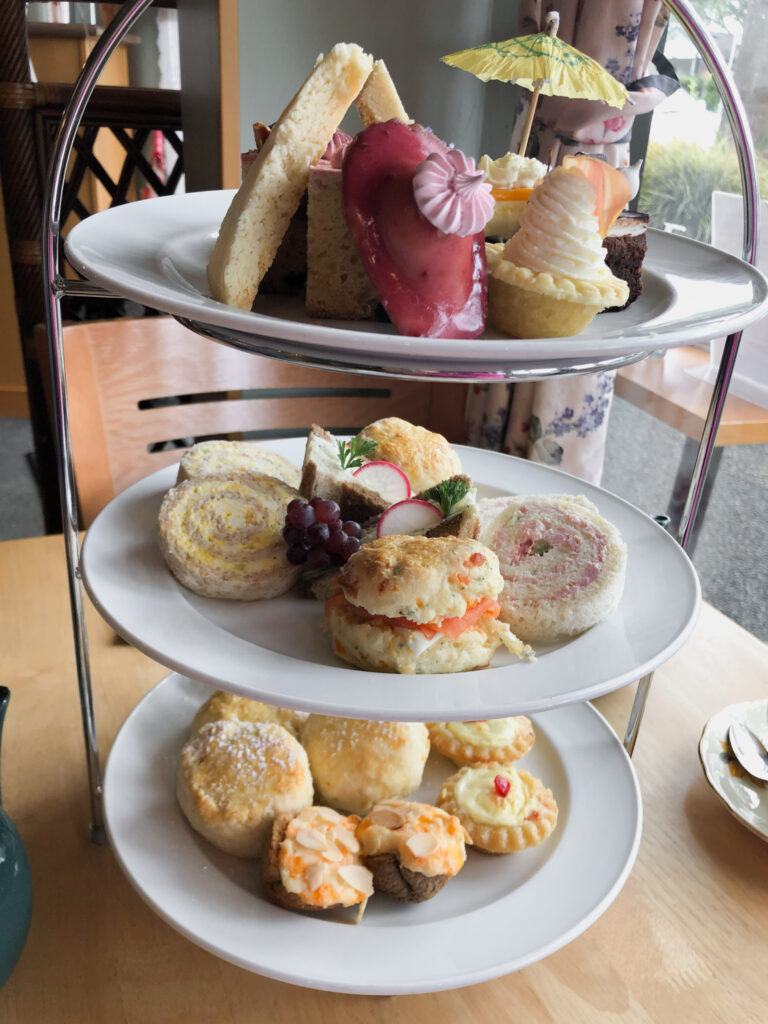 Experience
White Heather Tea Room is a small place and has a homey atmosphere. There are tables adorned with vintage cups, quilted hangings and vintage dishes decorating the walls. You can see the staff bustling behind the counter, making the magic happen. This tea room has a cozy atmosphere. It is definitely I place you can dress more casually if you wish. The server was attentive, kind and well versed in the options on offer. Our hot water was replenished without our prompting. We were taken care of well.
It is a busy place though, so make sure to make a reservation in advance. The number of savouries and sweets you receive depends on which afternoon tea you choose. They have four options: the Big Muckle, the Not-So-Wee Tea, the Wee Tea and their Gluten-Free Afternoon Tea. The Big Muckle is equivalent to a full afternoon tea experience and that is what we both chose. You can view the full menu here.
Tea
White Heather has a large selection of teas. We tried the Mountain Berry Fruit Tea and it was subtle and sweet. The tea was looseleaf, in brown tea bags, in individual mini teapots. You can view the whole list here.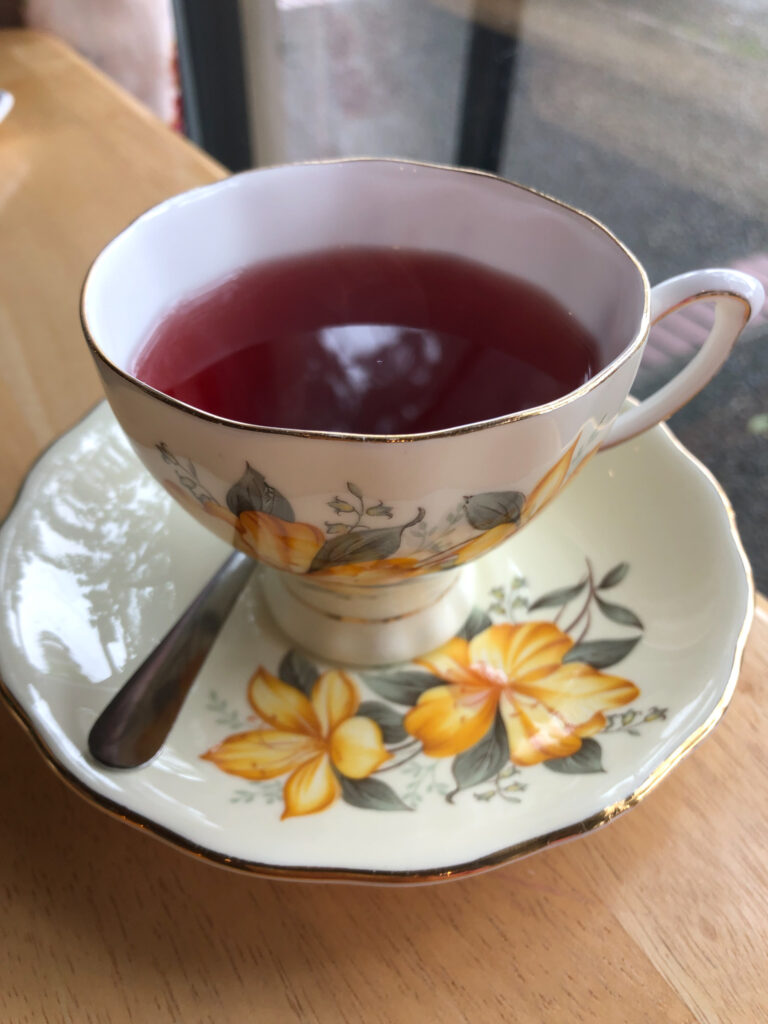 Scones
The scones were light and delightful. They had a soft crumb but held up nicely when layered with cream and jam. The scones for this tea were plain scones, which I think can be just as delicious as a flavoured scone when baked correctly. No complaints here 🙂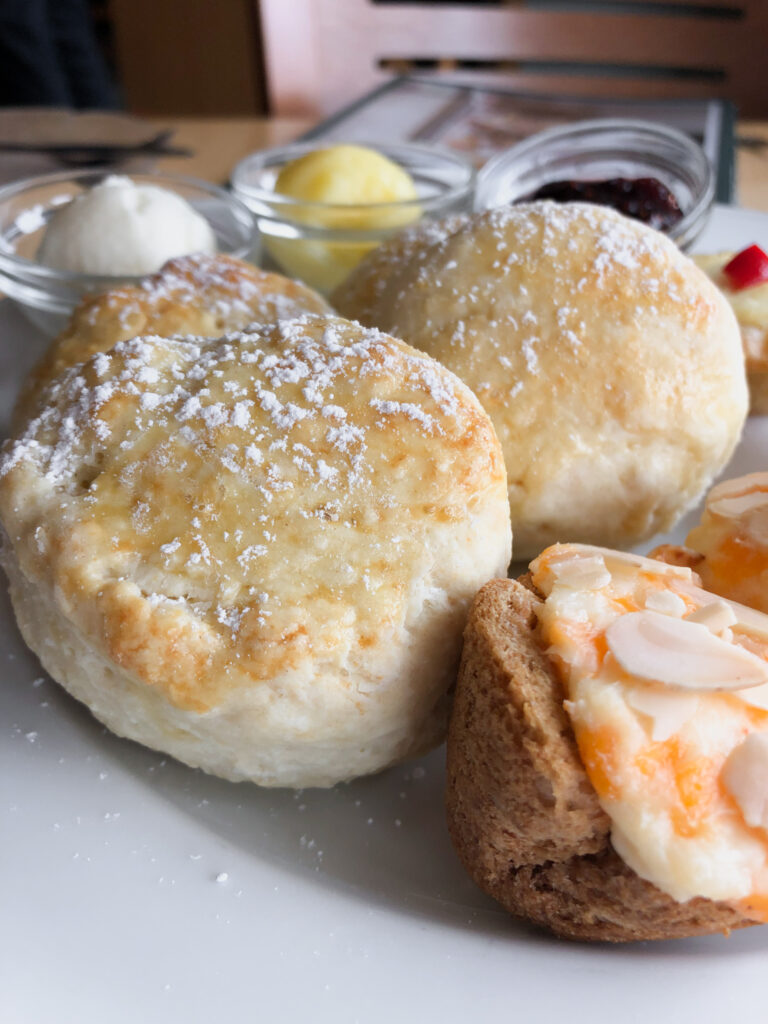 Savouries
The Big Muckle comes with four courses, a total of 13 "afternoon tea morsels". Our amuse bouche was a selection of cut fruit, served in an orange peel cup – very cute. There was an assortment of delectable hor d'oeuvres and finger sandwiches, as well as a "sconewich" filled with smoked salmon, which was excellent. We really enjoyed the selection of savouries. There were a nice variety of traditional and more inventive offerings. 10 out of 10 🙂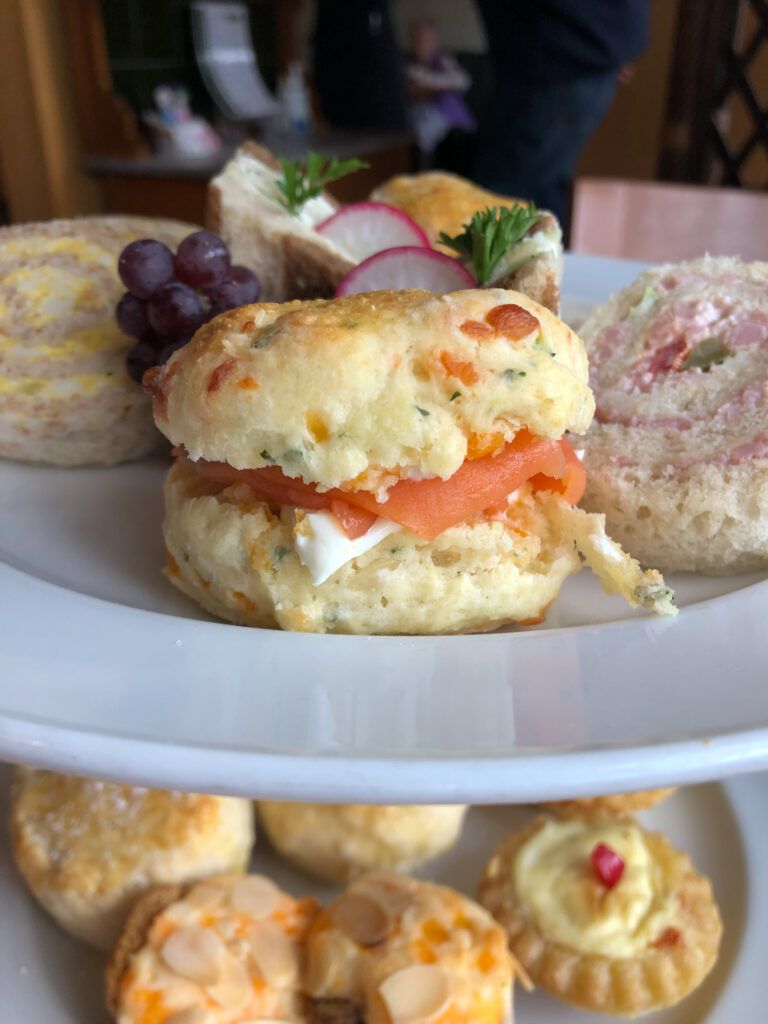 Sweets
If you know me at all, you know I love my baked goods lol! I was very impressed with the creative, beautiful and completely scrumptious sweet tier. The madeline was a gorgeous example of the true talent of the White Heather bakers. Wow! It was covered in a delicious glaze, filled with a creamy filling and topped with a cute meringue garnish. I have never had such a spectacular madeline. If I lived close by, I would be ordering the madelines for every party! Also, if the White Heather Tea Room ever comes out with a cookbook, I will be the first in line to purchase it, just for that recipe alone. For now, I'll have to do my best to imitate it from memory.
Also on the sweet tier was flavoured shortbread, a lemon tart, a chocolate cake/brownie slice and slices of berry-flavoured layer cake. All delicious, but the layer cake was phenomenal. Another example of how talented these bakers are. I would love to spend a day in their kitchen learning their tricks of the trade, they are SKILLED.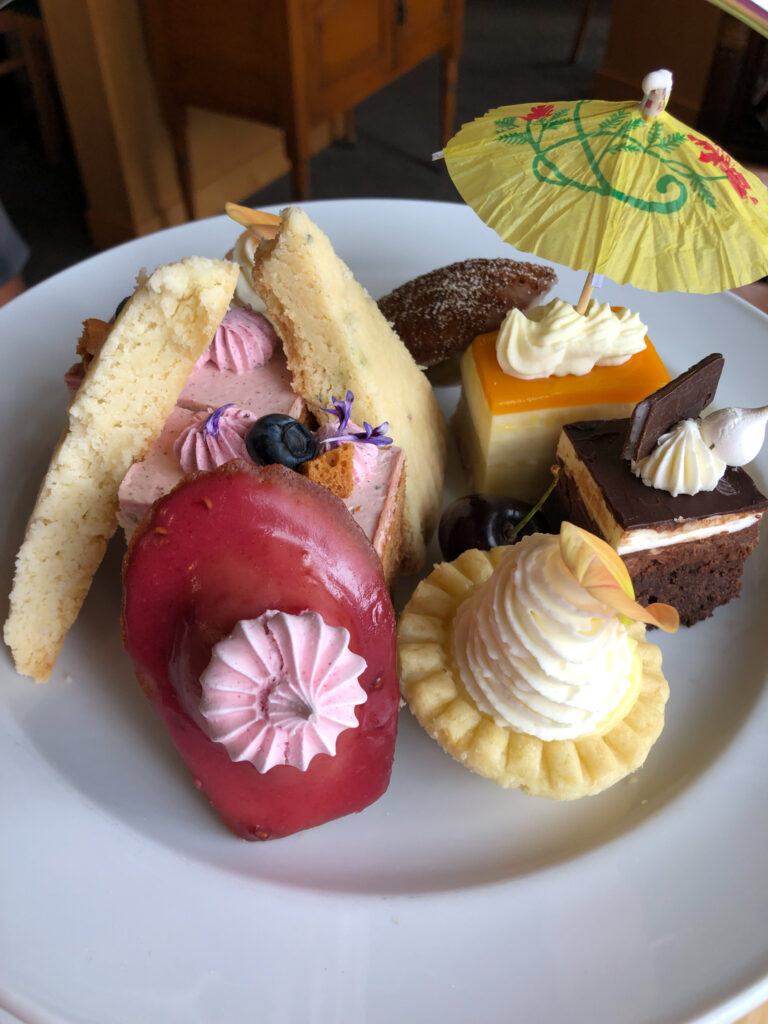 Overall Thoughts
If you are going to Vancouver Island for any reason, you have got to try the afternoon tea at White Heather Tea Room. It is hands-down the best afternoon tea I have tried on Vancouver Island and I will most definitely be going back there as soon as I can. I can't wait for Lily to try it, we need to plan a mother/daughter trip asap! What do you think of White Heather Tea Room? Let me know in the comments!